Only nine days of school left. Then...Summer School! I got lucky(?) enough to get a spot in the Summer Senior Seminar, so that means I need to start thinking of a Senior Project. Any ideas?
Last Tuesday was the band banquet. It ran fairly smoothly and the fried rice was good. The highlight of the evening was definitely the announcement of next years Drum Majors: Andrew "TheLord" Kemper and Tiffany "TheAsian" Inabu. Good choices. Next year should be swell. The show and section leaders haven't been announced yet but I'll keep you posted.
This weekend was nice any busy; filled with lawn mowing running, calculus, Stravinsky, cream puffs, communion assisting, more calculus, and LUKE! I like to save the best for last.
AVC Band and Clarinet Choir (including yours truly) are playing tomorrow night at 7:30 at LPAC. All in need of some hot Monday evening entertainment are welcome and encouraged to attend (
Ticheli's Blue Shades
is on the program...there's a little incentive for you).
If you've ever wondered what would happen if you scanned a mirror and were too afraid to try, well,
here you go
.
Those darn Aussies. First they write weird math books, then the start
using cat excrement in coffee
.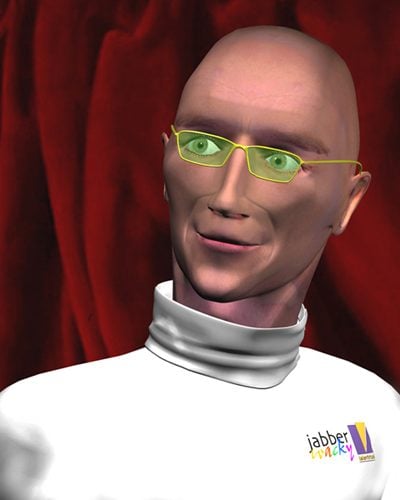 I'm not sure if your too familer with chat bots, but recently two of the main ones, ALICE and Jabberwacky, were set up to talk with
each other.
The result: a very
interesting/scary conversation between machines
.
That's about it. I best be going off to study...you guessed it...math.