Four days. Bright and early Sunday morning I'll depart LAX for Halifax, Nova Scotia. The ship will take off on Tuesday and the
journey begins
. I'm at the "pile of stuff versus suitcase" packing stage and the next challenge is getting the pile into the luggage. My sisters and the boys all came over on Sunday for a "bon voyage" dinner the other night. It was cool to see everybody before I head off and enjoy the amazing chicken.
I've often described my time since finishing the semester as a "few weeks off" but it's been pretty busy. My EMT license is set to expire this summer so I've been working through the recertification process. I've always wanted to take a
PreHosptial Trauma Life Support
(PHTLS) class and finally got the opportunity. It was quite an interesting class and definitely a good thing to have done. The curriculum is heavily based on research which presents some really interesting contradictions to the "accepted" scope of practice in many EMS systems. The highlight was my first successful mannequin intubation. I do my skills refresher tomorrow and then deal with the paperwork nightmare.
Casey, Julian, Jamie and I had the chance to visit Tani a few weeks ago for our second annual NorCal Adventure. We had quite a bit of fun eating (I was once again exposed to numerous exotic Asian foods) and visiting the surrounding area. A few other folks joined us last Thursday for the first annual LA Adventure. We took the Metrolink downtown and did a pretty intense walk hitting Union Station, the cathedral, LA Music Center (with a tour of all 4 halls), Angel's Flight, Central Market, LA Times Building, City Hall, Chinatown, and Philippe's.
I don't watch much TV during the semester so this could be really old but I recently saw a
commercial by the Corn Refiners Association
declaring a "sweet surprise" that High Fructose Corn Syrup (HFCS) is all natural and just fine for you. They way they make HFCS out to be a wonderfully natural treat is just plain disturbing. Too bad there is significant clinical research linking HFCS consumption to obesity, Type II diabetes, hypertension, and coronary artery disease. But don't worry, it's all natural so that makes okay. For good reason, you can find quite a few parodies of the commercial:
Parody 1
,
Parody 2
,
Parody 3
.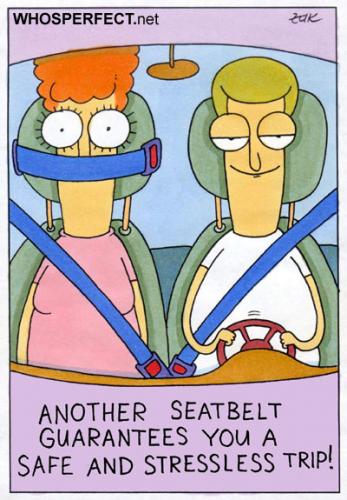 A few weeks ago I came across the video of a UK public service commercial encouraging seat-belt use. It is not only an incredibly beautiful commercial but one of the most amazing and artful short videos I've ever seen.
Check it out
, I guarantee you'll get the chills.
That's all for now, I have to start thinking about packing. Stay tuned for the travel journal, coming soon.